I had a lovely time in the USA where we were visiting my friend's from NJ and my wife's family.
We started off our summer holiday in NYC where I visited with friends from University. The view from our hotel room at the top of Central Park was breathtaking. We ate at the diner every morning before 5 AM as Rocco was jet lagged and we couldn't resist an American breakfast!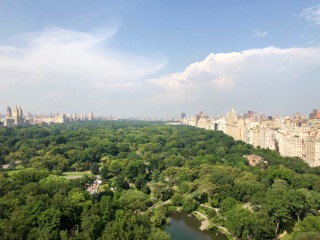 We then set off to Michigan for two weeks where we relaxed by the lake house, going out on the boat, swimming and having loads of barbeques. It was nice to switch off and get to be with Rocco in the swimming pool and the outdoors. Rocco spent time with his cousins and Great Granny who is 94 years old.
When we landed back to Heathrow after the red-eye flight, I went one way and DeAnna and Rocco went home. I was working. It was the event to announce FIFA's The Best awards. Peter Schmeichel, Sol Campbell, Kanu and I were all in a function room together for lunch. Peter wasn't too happy as he was surrounded by all former Gooners (he joked). There was a lot of banter over lunch then we were briefed on the event. All of us including the host, Alex Thomas were on stage to discuss the final nominees and watching various videos. We were asked to give our opinions on the shortlist for FIFA's: best men's player, best women's player, best men's coach, best women's coach, best goalkeeper, fan award, and Puskás awards. There were a few hundred people in attendance. The event lasted one hour then we had to do different media interviews. The media and press event followed and included interviews and a photoshoot. I'll be attending the event where all winners will be announced at The Best FIFA Football Awards in London on Monday, 24 September at the Royal Festival Hall.
Looking ahead, I'm working for Sky Sports as a studio pundit for Real Madrid vs Roma in the Champions League and on Saturday 22nd September I'm attending another FIFA event to celebrate the upcoming awards, to help grass roots football and will be playing in a 6 a side Legends match. On Sunday, I'll be working pitch side for BT Score covering Brighton Ladies v Liverpool Ladies.