I have been in Russia now for just over 2 weeks. All the preconceptions that I had before coming to this county and all the negativity that is portrayed in the press hasn't been visible to me, my experience in Russia has been very positive. The Russians are very warm, welcoming and helpful. I feel very safe and have slotted into my Russian home quite comfortably.
I was working on the Tonight Show every day, which was an hour round up show of all the games for that day. Wrap times were often at 3AM so I was relieved after a few days when I was approached by the Fox production team to present the games. They expressed that they were very happy with my analysis and persona. A great result. I am now covering what they consider the main games of the day. My first live game was so exciting as I covered England v Tunisia with Ian Wright and Alexi Lalas.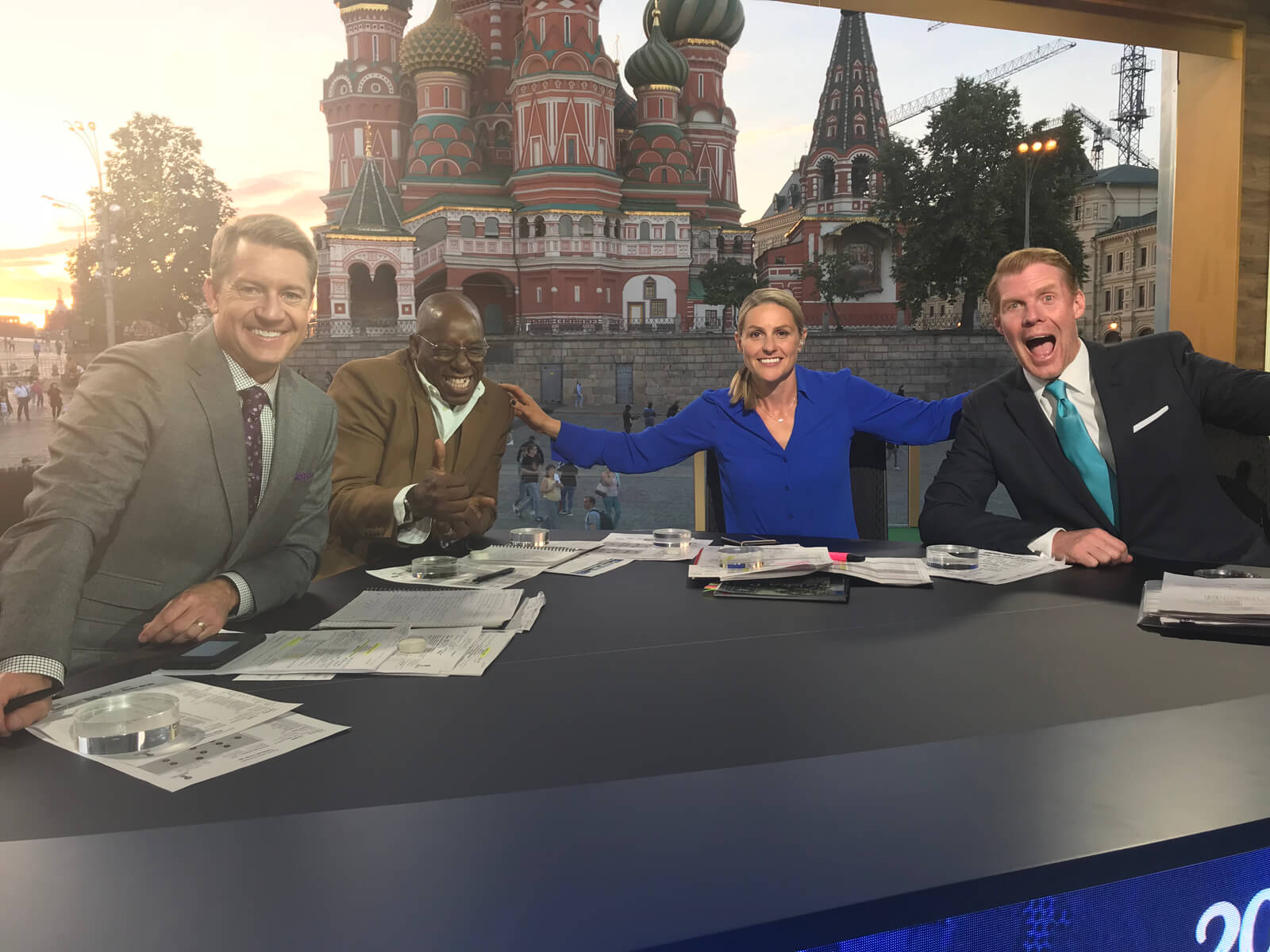 England played well for the first 20 minutes and should have been a couple of goals up. The second half was a little different as Tunisia sat back and we had problems breaking them down. In the end, I was pleased with England as I thought they were mentally strong as a team to score so late in the game, and get the vital 3 points. It is never easy playing the first game but now England are underway and next up is Panama, a team we can and should beat. We have seen in this tournament that anything can happen…nobody expected Mexico to beat Germany and then Argentina to lose to Croatia so heavily…
I have covered Portugal v Morocco, Uruguay v Saudi Arabia, France v Peru, Argentina v Croatia, Brazil v Costa Rica and Nigeria v Iceland. Brazil has been the best team to watch so far. Neymar has been kicked from pillar to post in both games v Switzerland and Costa Rica. This fouling strategy happened to me quite a few times in my career and you have to take it as a compliment as teams respect you and have to target you to stop you. You could see the emotion Neymar felt after the game where he sat crying on the pitch. Neymar was injured 2 months before the tournament and it was touch and go if he would make it back in time.I know exactly how this feels, the hard work that goes on behind the scenes with the physio's the grueling fitness work that you have to put it to get back to that level is immense so when that final whistle went and the way the game went all those emotions and memories come flooding back and it gets hold of you. These were tears of joy. The emotions are so strong that you have to let it out.
What a wonderful game today by England! They were fantastic to watch. England looked like they were having fun and embracing the big stage. Harry Kane is the man of the moment, anything he touches turns to a goal. Regardless that Panama were the underdogs, England still had to perform and they certainly did that. To score 5 goals by half time was impressive in such a high standard tournament. It meant Gareth Southgate could rest Kane, Lingard and Trippier and get Vardy, Rose and Delph some game time which could be crucial later in the tournament. The video footage of the England fans celebrating onshore and around the world was moving. Everyone is getting behind this young team.
My family are arriving in Moscow very soon and I can't wait to see wife and little boy. Being away from them has been so hard. That's all from me. I hope you all are enjoying the tournament as it's been a cracker so far with no 0-0 games. I will check back soon with another update on how things are going.