I don't play competitive football anymore, just the odd charity game and Monday nights 5 a side games, so when I was asked to play in Soccer Aid for UNICEF this year I was extremely excited and jumped at the opportunity. Especially now, during a pandemic. I wanted to play my part and be involved in something so important.
I have seen SoccerAid on TV many times and dreamt of playing but women were never present until last year when I was asked to play. I was pregnant with our daughter Lucia so I had to decline. However, it was great to see two of my former teammates Katie Chapman and Rachel Yankey play really well.
I felt quite nervous meeting up with everyone but once we got out onto the training field on Thursday the nerves eased and I especially enjoyed talking to Lee Mack and Tom Davies. Both are naturally super funny. I was laughing constantly in their presence.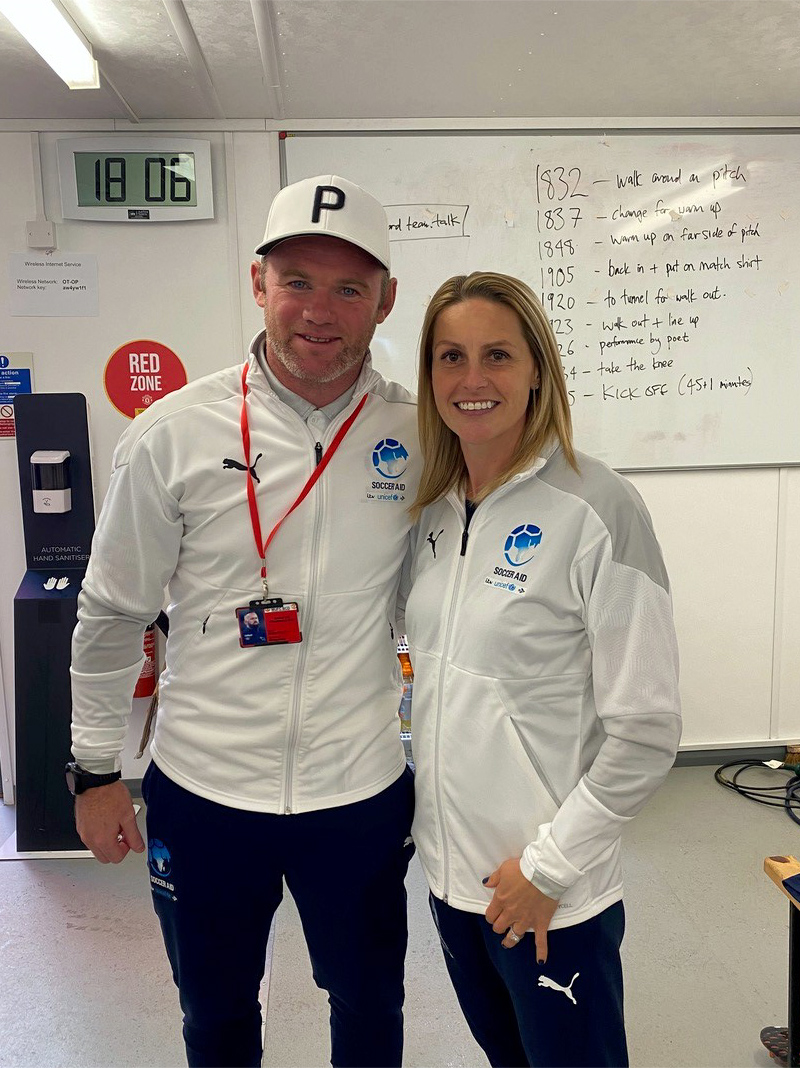 The morning of the game, when I put the England kit back on, the same happy and excited emotions came rushing back that I had experienced my whole career. Walking through the dressing room and seeing names of celebrities and former pros of the game on shirts made it even more fun.
The yearly game is for such a brilliant cause which over the years has raised over £38 million pound for UNICEF. A staggering number!
The hotel where we were staying was highly COVID protected. Face masks were worn at all times around the hotel, we kept our 2 meter distance from people and we had 4 COVID tests in the build up to the game. We had to all keep in our team bubble to reduce risks ahead of the game.
We trained a total of 3 days together where we built some team structure. Playing Happy Gilmore golf swing was hilarious - my result was poor. Overall, we mostly laughed.
Old Trafford is a beautiful stadium. It was such a shame we couldn't play in from a packed crowd but with the way it is, it was just so nice to be out there kicking a ball around and being free.
This year's Soccer Aid we played for 'Generation Covid', and the money raised will help Unicef stop the spread of coronavirus and limit the impact on children's lives around the world.
Thanks to everyones generosity, UNICEF raised a record £9.3m, the most the match has ever raised in the history of the show.
Thank you Soccer Aid and UNICEF, I loved being apart of something so special and I hope next year the fans get to see the game in the stadium.
Click here to read about the 2021 Soccer Aid event
Kelly x