Well life got so much better when we welcomed our baby girl into the world on the 1st August. Baby Lucia (loo-chee-ah) was born a healthy 6lb 7oz. Rocco has already taken on the role as big brother and if Lucia cries, he tells us, "Lucia needs milk". The night feeds mean I have had limited sleep but Lucia is finding her rhythm and sleeping more at night. It's hard to imagine that just under 3 years ago I was still playing football for Arsenal and now I have two wonderful children. I feel so grateful.
As I am now recovered from the C-section, I've signed up with the local David Lloyd Club as they have great facilities and also cater to family and kids needs, which is so important for me now. I want to shift this baby weight and get back into shape. My goal is to sign up for a 5 aside team and start playing power league football. I haven't really kicked a ball that much since retiring but I want to start playing for fun.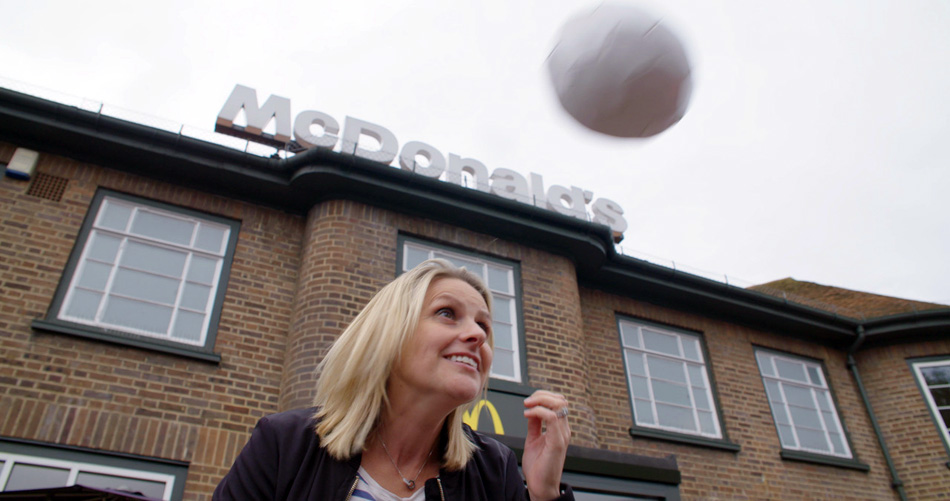 Talking of football, I am excited that the new Barclays FA Women's Super League season has kicked off. This is going to be the most competitive league to date due to the investment in the teams and professionalism throughout the game. It is great to see the extensive coverage across tv, radio, social media and in the papers.
To kick off the season, I was on ITV as an ambassador for the Barclays FA Women's Super League, they even had the cup in the studio. Chelsea's opening game at Stamford Bridge with Barclays who are the new FA Women's Super League sponsor. It was one of two opening games whereby the teams played at the Premier League stadium, which resulted in an attendance of 24,000 people creating a fantastic atmosphere to kick off the season. It validates that if you publicise and promote the game, the interest is there.
I had the honour to film with McDonald's recently as they discovered through the article in the Daily Mail that I used to work there when I was a teenager. The campaign draws on the valuable skills gained at McDonald's and how they are transferable across many different careers. It was fun to be back doing a shift and drawing on my experiences and in particular how these skills helped me in my football career. I was intrigued that a full day of filming resulted in a 60 second online clip, which has been pushed across social media. Check it out here on Facebook or on my twitter or Instagram channels.
This month I was a guest speaker at the Chartered Institute of Insurance in Ipswich. The audience were very engaging and it gave me an opportunity to promote the women's game even more. It was interesting to hear how many people have daughters who are now playing for their school and their local communities. This never would have happened when I was growing up. This is a direct result of all of the exposure and positive image that now sits with girls playing sports.
Today I attended a lunch for the first Barclays FA Women's Super League Monthly Awards whereby the panel were asked to review the shortlists for manager and player of the month and vote. It will be interesting to see who comes out on top for the first awards this month.
That's it for now, as I have to go feed Lucia who is squirming for some milk. More soon.